Those of us who have an aging loved one typically feel a lot of concern on that person's behalf. While a specific family member is typically the primary caregiver for a senior citizen living with a health condition, other people in their family are invested in their loved one's well-being also. This is true whether that loved one is an in-law who's always been supportive, a doting grandparent, or any kind of beloved relative. And while most people prefer to stay in their own homes as they get older, which is the option their families typically prefer as well, it's sometimes the case that the care provided by family members, who usually have many other responsibilities, is no longer enough. In situations like this, it's appropriate to look for the best local assisted living facility.
CareOne's assisted living locations throughout NJ proudly serve senior citizens with chronic health needs and their families with compassion, understanding, and top-quality medical care. The senior care experts at CareOne have compiled this list of the most important indicators that may mean assisted living is the best option for an older loved one's quality of life.
Contact us or find a near you today, or learn more below on when it may be time to consider assisted living for your loved one.
Signs It's Time for Senior Assisted Living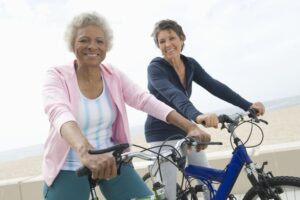 While everyone ages differently and physical and mental capacity can be affected by many factors, there are certain commonalities between people who may require assisted living services. Among the factors that usually indicate assisted living could be appropriate are:
1. Lack of Socialization
When leaving the house becomes more difficult due to mobility issues or conversing becomes a challenge because of cognitive health problems, social isolation can result. This lack of interaction has many negative effects on quality of life – senior citizens have been shown to have better outcomes in multiple health areas if they maintain good social connections. CareOne is committed to promoting enriching social interactions for all of our residents with our therapeutic recreational programming. Our assisted living facilities feature daily events including performances, outings, and more, so there's always something fresh and fun on the calendar.
2. Recent Falls
While tripping and falling may not be very consequential to a younger person who is in good health, falls are one of the most serious overall health risks that older people face. Even senior citizens with no preexisting medical conditions are in danger of fractured bones and internal bleeding from falls, and the neurological effects of dementia or other cognitive conditions both make falls more severe and more likely. If your senior loved one has fallen multiple times recently – especially if fall prevention measures have already been taken – it may be in their best interest to stay in a safe and monitored environment.
3. Chronic or Worsening Health Problems
If a senior citizen's health is in decline, it will proportionately become more difficult for their family members to care for them. Chronic health conditions that are progressive in nature may need care around the clock, which assisted living is well-suited to provide.
4. Needing Help with Daily Living Activities
Many seniors can manage their daily lives with some help from their loved ones, but those who have a chronic condition often need assistance in multiple aspects of their lives, from hygiene to eating to simply moving around. Family caregivers may face the prospect of having to either be there for their loved one or arrange for care around the clock. With assisted living, these needs are provided for 24/7 by trained professionals.
5. Difficulty Managing Medication
It's vital to take prescription medications on the right dates and at the right time. For various reasons, elderly people may lose track of this need – and missing medications or taking too high a dose can lead to serious complications. CareOne's assisted living facilities provide expert pharmaceutical management as part of our highly effective and compassionate nursing care.
6. Poor Nutrition
Elderly people with chronic health conditions may be unable to prepare healthy meals for themselves on a regular schedule or may have difficulties in eating – the nutritional deficiencies that can result can have wide-ranging negative effects on health. CareOne offers restaurant-style dining at all assisted living facilities, featuring healthy chef-driven cuisine using local ingredients that bolsters whole-person health.
7. Decreased Driving Capacity
Whether it's due to visual, neurological, or cognitive problems, many seniors lose the ability to drive, which affects their ability to take care of themselves day-to-day as well as potentially leading to loneliness and depressed moods. It may not always be possible for a family member to provide transportation – assisted living facilities, however, do have robust transportation services for residents to take care of needed appointments and attend outings. At CareOne assisted living locations, we're happy to offer courteous and efficient transportation for our residents' convenience and the peace of mind of their families.
8. Noticeable Changes in Personality
Particularly in cases of cognitive impairment, older people may start to act and speak differently than their loved ones are used to. A variety of factors, not all of which can be controlled, may cause them to become suddenly angry, withdraw, lash out, act suspiciously towards others – these behaviors indicate unmet needs or fears that may or may not be based in reality, which loved ones might not be prepared to address. CareOne's assisted living staff have the training and experience needed to communicate positively with all residents and defuse any behavioral issues that may arise.
9. Why Assisted Living is a Good Option for Seniors
All in all, CareOne assisted living gives residents a broad spectrum of care in a setting that fosters community. The CareOne difference means access to resources of our integrated health network and expert specialized medical care, offering peace of mind to our residents and their loved ones.
CareOne's assisted living residents are able to participate in physical, occupational, and speech therapies provided by trusted professionals 7 days a week. This consistent therapeutic regimen builds independence, makes activities of daily living easier, and is a powerful support for overall health and satisfaction.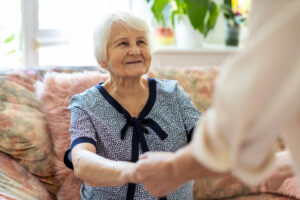 Our locations host a range of great amenities that can include on-site ice cream parlors, movie theaters, hair salons, advanced exercise facilities, and more, all of which promote overall quality of life, improved physical and mental health, social bonds, friendship, and better living for our residents no matter their medical situation.
And our Harmony Village communities are a unique concept in assisted living bolstered with the most up-to-date memory and dementia care practices, which are suited to caring for seniors with both dementia and other chronic health challenges throughout the progression of their condition.
If you feel your loved one may be best cared for in an assisted living setting or their physician has recommended this option, contact us or find a CareOne assisted living facility near you to learn more.