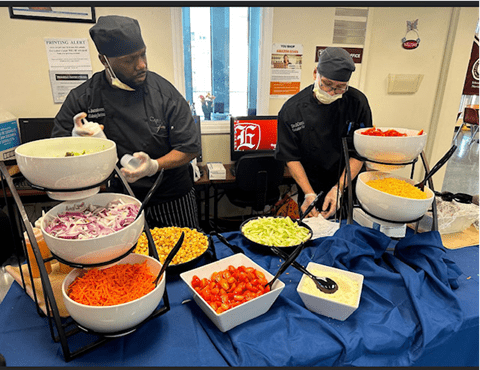 Nurturing a talent pipeline of healthcare professionals across New Jersey is a big part of ensuring we're hiring the smart and compassionate people who make CareOne great. To build relationships with new talent, it's important that we develop ties to the community and find creative, hands-on ways to give back. Senior Administrator at CareOne, Charlotte Sodora, organized a new partnership to introduce the CareOne team to Eastwick College students by collaborating with them on a community service project.
Eastwick College's campuses and Feed the Hungry have worked together for nine years raising money to fight food insecurity, and last year raised $55,000 for 11 food banks. This year, CareOne's formally trained chefs are partnering with the initiative to prepare and sell lunches on Eastwick campuses. At CareOne we pride ourselves on curating restaurant quality meals using locally sourced ingredients through our Signature Dining Program and we are donating food and labor with all proceeds going directly to Feed the Hungry. Additionally, Eastwick College owner and President Tom Eastwick will match the profits dollar-for-dollar.
"This is a fantastic opportunity for us to make an introduction to the dedicated students at Eastwick, while also participating in a wonderful community effort to help local food banks. Our residents greatly benefit from enthusiastic new faces in our facilities," said Sodora. "I've been working at CareOne for 28 years and have always been so impressed with the talent and work ethic of our younger employees. I love to see the fresh energy that they bring to the building. They not only help us function better, their passion and care for our residents can be felt throughout our buildings."
CareOne will be serving meals on Valentine's Day (February 14, 2023) on Eastwick College's Ramsey campus. As part of this relationship, CareOne will also be named a founding partner with Eastwick College.