Tyra Fields-Gary, RN, MSNAt CareOne, we are proud to be a leading post-acute nursing facility that provides the highest quality care for patients of all acuity levels. We deliver the best care largely because we hire the best people – our incredible employees live and breathe this commitment every day and always put our patients first. We would not be CareOne without them.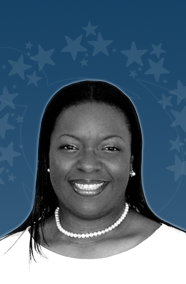 One of our amazing employees is Tyra Fields-Gary, the Senior Director of Nursing Services at CareOne at East Brunswick, who has worked at CareOne for almost nine years. We wanted to take a moment to highlight her impressive career and her invaluable contributions to our organization, her fellow colleagues, and her patients and their families.  
Tyra's "Call to Care"
As a child, Tyra and her sister would visit the local nursing home with their mother and provide church services and seasonal gift baskets to the seniors in their community. This ritual ignited Tyra's passion for nursing, one that she knew would become her professional calling. Tyra received her diploma in nursing at the Winifred B. Baldwin School of Nursing in Essex County, NJ. She then obtained her Bachelor of Science in Nursing (BSN, Clinical Management) and her Master of Science in Nursing (MSN, Transcultural Nursing and Nursing Administration) at Kean University in Union.
After completing her degrees, Tyra began working in acute care at a local community hospital. There, she cared for patients who had just left the ICU, first as a staff nurse and then as a charge nurse. During that time, she took a per diem position as a charge nurse in a long-term acute care hospital (LTACH), where she worked with patients with high acuity and complex care needs.
In this role, Tyra quickly rose through the ranks from clinical manager to Director of Nursing, eventually making her way to Senior Chief Clinical Officer. While working in the LTACH, she discovered the post-acute world, developing a strong professional relationship with CareOne at Wayne, the local post-acute CareOne facility.  
Tyra's Journey to CareOne
After 18 years of working in an LTACH, Tyra was ready for a change. She yearned for a role that allowed her to see her patients' care through to the end. "Seeing a patient go home after an intensive treatment plan was so gratifying," she said – and she wanted more of it.
What appealed to her most about CareOne and the post-acute world was that she could play an instrumental role in seeing her patients' care through. "Very often in acute care, you're wondering: How did that patient fare? Did they do well? Did we meet the needs of the patient and their family?"
At CareOne, she loves that she can see the residents through the care continuum. "I can still use my clinical skillset and feel productive as a clinician," she said. Being able to bridge the continuity of care for her patients who come from an acute environment and understand the unique physical needs of LTACH patients offered Tyra the perfect balance of her seasoned LTACH experience and a new professional challenge. 
When Tyra was applying for a role at CareOne, she was met with open arms. "I met with the building administrator, VP of Marketing, the CCO, and even the owner of CareOne – all even before I accepted the job. I thought, 'This doesn't happen in the acute care world!' It was so important to me. Everything felt right."
What instantly struck Tyra about CareOne was that it felt like a "very warm, very kind, and very open" place where staff not only looked out for their patients, with the primary focus being on quality of care, but also looked out for each other. 
Long-lasting Bonds Built at CareOne
Tyra's favorite part about working at CareOne is her residents. "I love the relationship I have with my long-term residents and the impact I have on my sub-acute residents." For her sub-acute patients, seeing those who had been bedbound when they were admitted to CareOne walk out the door on their own to go home is "so fulfilling."
Of her long-term residents, she says, "[They're] part of my family. They ask about my family, how my kids are doing. And my kids ask about my residents."  
While Tyra builds meaningful relationships with all her residents, there's one that is particularly special. "I'm very close to our resident council president. About four years ago, she renewed her vows and asked me to stand in as the mother of the bride because she felt like I assumed that role [for her]." To this day, they remain extremely close and can often be seen around CareOne at East Brunswick together, with the resident calling Tyra by the nickname she gave her, 'Mama T'. 
Her Personal Connection to CareOne
The comfort CareOne has provided to Tyra extends beyond the meaningful relationships she has built with patients and coworkers during her time there. It has also had a profound impact on her family. CareOne at East Brunswick holds a special and deeply personal place in Tyra's heart because it was her mother's home for three years before her death in 2022. It was a difficult decision to bring her to CareOne, but Tyra knew it was the right one.
"I felt 100% comfortable bringing her to my center. This building and staff became an extension of my family because they cared for her like they would their own mothers." This gratitude is part of what drives Tyra every day. To improve quality of life and make a difference in a resident's and their family's lives, it is her mission to ensure every resident receives the same care she knows her mother received.
"I love being a nurse. It reminds me even on my worst days why I still love it." 
A Place to Stay and Grow
For Tyra, the opportunities to grow professionally at CareOne are endless, saying, "[CareOne] goes above and beyond." With encouragement from her leaders and financial support from CareOne, she received her Assisted Living Administrator certification (CALA) and knows that if she ever wants to step away from her current clinical role, she has the support, ability, and certification to do so.
Tyra has also mentored new DONs at other facilities, training dozens in her nine-year tenure (and counting) at CareOne. She loves being a mentor and takes great pride in seeing colleagues under her leadership get promoted: "It makes me feel good!" 
Tyra is one of the many CareOne employees who contribute tirelessly every day to elevate CareOne as the best post-acute nursing facilities and assisted living communities for residents in the Northeast. It's people like Tyra who make CareOne a place to call home. 
To learn more about our open nursing positions at post-acute nursing facilities, please visit the CareOne Careers Page.