Navigating health care for the aging population can feel complex and overwhelming. For those seeking senior care, many options are available, however, it's critical to choose one that fits your loved one's unique health needs to ensure they receive optimal care.
Understanding the different types of senior care can help you make an informed decision on which option is best for you or your loved one. Options include: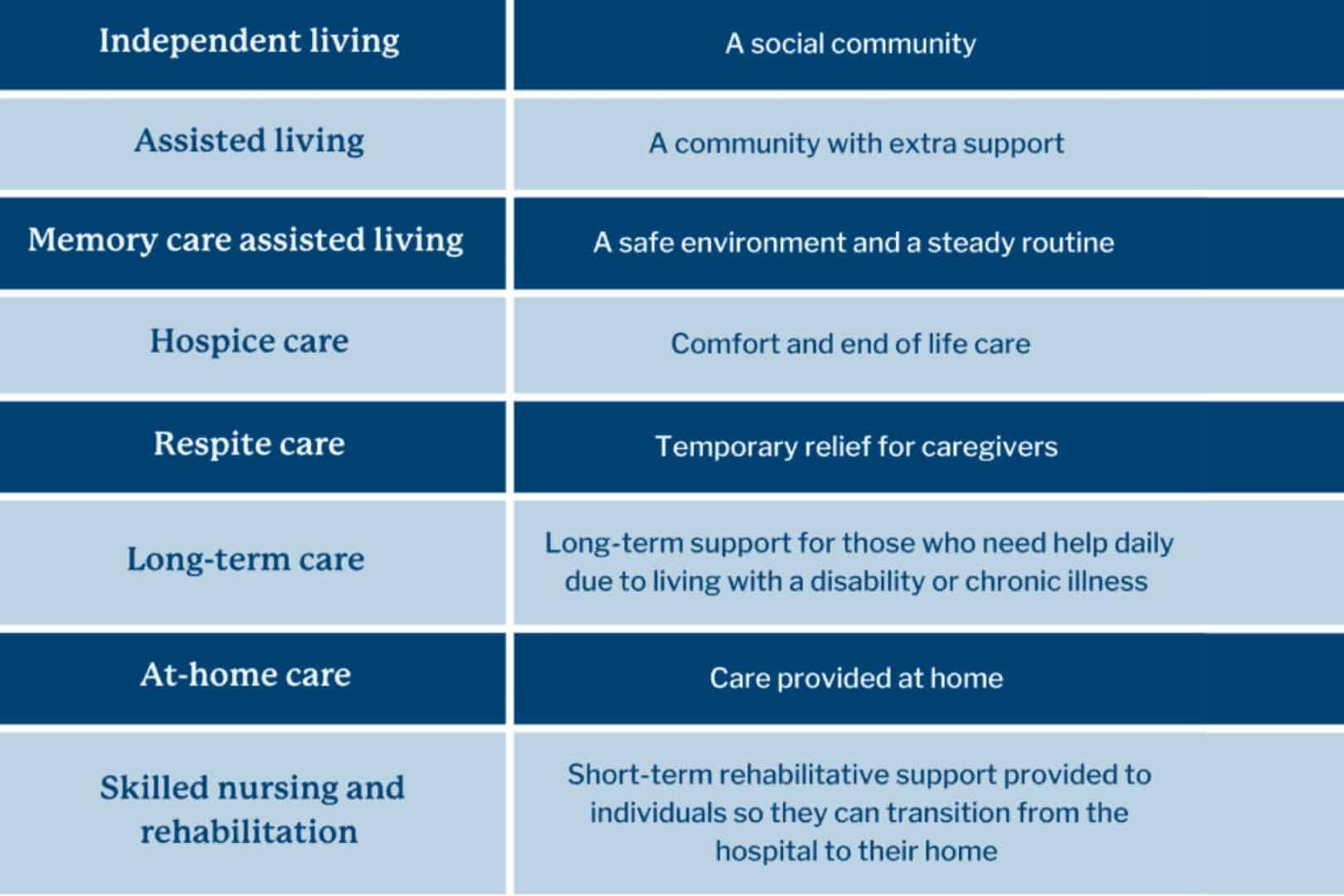 Table of Contents:
What is Independent Living?
What is Assisted Living?
What is Memory Care Assisted Living?
What is Hospice Care?
What is Respite Care
What is Long-Term Care?
What is At-Home Care?
What is Skilled Nursing and Rehabilitation?
Making a Decision
Independent Living

Independent living primarily serves active older adults, those with disabilities or individuals who require little to no support for personal care or assistance.
Usually, residents can care for themselves but choose independent living because the facilities provide access to personal care, meals, transportation, health care services and social activities in a setting that enables individuals to be a part of a community while living self-sufficiently.
Independent living facilities free residents from household responsibilities while allowing for unlimited opportunities to participate in activities and pursue personal interests. Residents can be as engaged or independent as they wish. Independent living places an emphasis on personal choice, community, and autonomy.
What is Assisted Living?

An assisted living facility provides 24/7 care while helping residents with their daily needs, from nutrition and meal preparation to medication management, personal hygiene, housekeeping, and social activities. Assisted living is meant for those who cannot or choose not to live independently due to frailty, a disability or a health condition.
Various levels of care are offered in an assisted living facility and are personalized to provide optimal physical and mental health support to residents.
Other key highlights of assisted living include:
Providing a community and home-like atmosphere with modern furniture, lighting, artwork, etc.
Extensive amenities and entertainment options to promote social interaction among residents.
Culinary programs, including farm-to-table ingredients, plant-based menus, restaurant-style dining, and more.
Figuring out the right time for assisted living? Assisted living facilities offer residential health care in a community environment and support individuals whose medical conditions impact mobility and their ability to perform activities of daily living.
Assisted living provides a safe environment and assures caregivers that their loved one's medical and physical safety are taken care of.
 What is Memory Care Assisted Living?
A memory care facility is designed to provide a nurturing and safe environment for residents who are impacted by cognitive impairments. Memory care facility staff focus on preserving residents' cognitive skills while ensuring they are comfortable — and most importantly — safe.
Specialists create personalized care plans for residents to ensure they receive optimal care which supports independence and quality of life.
Teams who are trained to understand the progression of each condition to provide the highest level of support and care.
Sensory rooms may be available to provide gentle light, movement, music and objects to calm and/or stimulate residents in these types of facilities.
In many memory care buildings, residents are grouped together based on their degree of memory impairment and the level of care needed. This is a critical element of successful memory care – residents who have the same or similar cognitive abilities are found to engage more in suitable activities, build camaraderie with their fellow residents and feel a stronger sense of belonging.
What is Memory Care Assisted Living?
Key indications that it may be time to start exploring a memory care facility include observing changes in behavior such as:
Confusion
The disorientation that impacts physical safety
Agitation
Delusions
Hallucinations
Wandering and falls
Decline in physical health
Refusal of care
When your loved one needs more care than what can be provided at home, it becomes necessary to find a memory care facility with around-the-clock 24-hour supervision to keep residents safe.
What is Hospice Care?

Hospice care is provided to people who are experiencing an advanced, life-limiting illness. A loved one who has about six months or less of their life expectancy remaining would likely be in hospice care. Hospice care encourages families to cherish their loved one's remaining time and give them the highest quality of life and comfort possible.
In some cases, hospice care can be centered in the home, though there may be times when inpatient hospice care is needed. Hospice care can also be administered in an assisted living facility where a range of medical, emotional and spiritual services are brought directly to the resident and their loved ones. Hospice Care might include:
Palliative care and symptom control
Inpatient care where 24/7 support is provided at a hospice center
Respite care
Bereavement care
What is Respite Care?

Respite care is temporary care that allows caregivers to take the time they need for personal matters while ensuring their loved ones are receiving high-quality, uninterrupted care in a safe and supportive environment. Care can also be personalized for those with memory impairments to ensure residents are receiving the support they need.
What Is Long Term Care?

Long-term care offers a continuation of hospital-level care while providing physical and emotional aid for an extended period of time to individuals with a serious, ongoing health condition or disability. This type of care is designed to provide high-touch support for daily living, such as bathing, grooming and mobility, among other activities, for longer periods of time.
In some instances, long-term care can also provide complex care, such as wound care, burn care and ventilator weaning.
Long-term care can be integrated in a hospital setting or at a facility. Key services include:
24-hour-a-day registered nurses
Advanced practice nurses
Certified nursing assistants
On-site physicians
Licensed dieticians
Social work services
Spiritual support services
Therapeutic recreation and creative arts therapies
What is At-Home Care?

At-home care, sometimes referred to as home health care, is provided in an individual's home for an illness or injury. Many opt for at-home care because of the convenience factor. A primary goal of at-home care is to help individuals maintain or improve their conditions.
At-home care services can vary from nursing care to home health aides. Services are personalized to an individual's needs and can be provided by any combination of a medical doctor, nurse, physical, occupational and speech therapist, social worker, home health aide, and/or other licensed specialist.
An at-home care nurse may be a registered nurse, licensed vocational nurse or nurse assistant.
Nursing care offered can include:
Assessing an individual's needs
Developing a plan of care with their doctor
Administering medication
Wound care
Home health aid care offered can include:
Assisting with activities of daily living
Taking vital signs
Monitoring physical and mental conditions
Assistance with health emergencies
What is Skilled Nursing and Rehabilitation?

A skilled nursing facility provides inpatient nursing care to residents who require medical, nursing, or rehabilitative services but not to the acute level of a hospital setting.
A skilled nursing facility offers specialized nursing care, rehabilitation services, and assistance with daily activities for patients recovering from a serious illness or surgery. It is a type of post-acute (sub-acute) care and rehabilitation following a hospital discharge.
Of all the care options, skilled nursing facilities provide the highest level of care, similar to that of a hospital, and offer transitional temporary care. The main objective of a skilled nursing facility is to administer high-quality care and help residents regain mobility so they can return home. This includes regaining health and independence for the best possible outcome for the individual.
Skilled nursing facilities typically include teams of licensed physical, occupational, and speech therapists, registered nurses, advanced practice nurses, on-site medicine physicians, on-site rehabilitative medicine physicians, licensed nutritionists, a multidisciplinary physician panel, and therapeutic recreation staff.
Skilled nursing facilities are designed to support those with serious illnesses and/or rehabilitative needs such as:
Orthopedic conditions like post-surgery on hip and joint replacements
Cardiac and pulmonary conditions like post-heart attack, congestive heart failure, and chronic obstructive pulmonary disease
Neurological conditions like spinal cord injury, stroke, and Parkinson's disease
Outpatient rehabilitation like physical, occupational, and speech therapy
General medical support for cancer recovery, arthritis and other deconditioning illnesses
Making a Decision
At CareOne, we know first-hand how overwhelming it can be to find the right setting for you or your loved one.
Our team is committed to supporting you and we're here to help assess your loved one's circumstances and needs so you can make a decision with dignity
Call 855-277-8550 to learn more about your care options.