CareOne, a leading skilled nursing and senior care provider committed to delivering excellence in care across the continuum, and Columbia University are proud to announce the winners of the Annual Columbia-CareOne Healthcare Innovation Invitational. The Columbia Entrepreneurship team and CareOne guided this year's cohort of 12 healthcare founders through a three-week process of investor-type pitches.
At the finals of the competition, six teams came to the Columbia Startup Lab to pitch their healthcare solutions to a panel of judges including David Baruch '13 Columbia College, Assoc. General Council, CareOne; Jeet Raut '14 Teachers College, co-founder Behold.AI; and Justin Bhandari, SVP Strategy and Special Projects, CareOne.
The following teams won awards:
1st Place, $25,000 winner: QuikReversal, Founder: Asher Varon '14 Columbia School of General Studies
2nd Place, $15,000 Winner: OphyCare, Founder: Etizaz Shah '21 Columbia School of International Public Policy
3rd Place, $10,000 Winner: Tango, Founder: Jordan DeTar '24 Columbia Graduate School of Business
"This year's group of founders was incredibly competitive and innovative. We were impressed by every single pitch, making it difficult to select our top three," said David Baruch, Associate General Counsel, Straus Group. "CareOne and the Straus Group sponsor and participate in this competition annually because we believe that the future of healthcare is in the hands of entrepreneurs like Asher, Etizaz, Jordan, and all the other competitors."
More about the winning teams:
QuikReversal – 1st Place, $25,000 winner
Founder: Asher Varon
To address the opioid overdose crisis with emergency treatment, QuikReversal delivers a self-applied, disposable, intranasal naloxone wearable, that automatically detects opioid overdose and delivers naloxone without the need for intervention from a bystander or first responder.
Letters of support have been obtained from the New York State Office of Addiction Services and the Blue Cross Blue Shield Association. Maryland State has also granted $90,000 to QuikReversal through its Maryland Industrial Partnerships program. Currently, QuikReversal is pre-revenue and pre-launch. The team is focused on FDA approval through a 505b pathway. They have already raised a total of $230,000 from investors as well as close to $65,000 in awards supported by Columbia University –just like the 2023 Columbia-CareOne Healthcare Innovation Invitational award.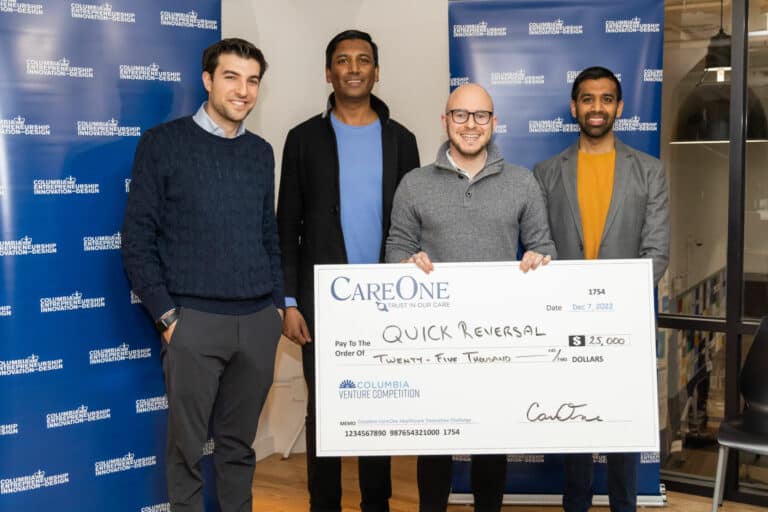 OphyCare – 2nd Place, $15,000 Winner
Founder: Etizaz Shah
OphyCare delivers cloud-based health record management and telehealth infrastructure to organizations serving populations impacted by mass migration, war, and paper & pen record keeping. OphyCare helps these organizations deliver more effective and efficient care to their patients by streamlining health record management and providing telehealth capabilities to patients in their own language. OphyCare is post-launch and is on $1,500,000 sales run-rate for 2023. They've raised more than $250,000 in venture funding. Additionally, the team has landed a strategic partnership with a nursing home software company that will lead to an additional 200 facilities. The team launched with their first customer in February 2023 where they will be serving more than 175 doctors, 20 facilities, and more than 12,000 patients annually.

Tango – 3rd Place, $10,000 Winner
Founder: Jordan DeTar
Tango is repositioning couples care as required routine maintenance to proactively solve the problem that nearly every couple faces: failure to effectively communicate. The app provides self-guided programs on common relationship topics via on-demand audio content to help couples strengthen communication and connection. Still in their pre-launch phase, Tango completed initial user testing in the Fall of 2022. The team explored relationship-health pain points, then presented wireframe mockups of their app and took the beta customers through a typical user journey. Leveraging feedback from super-users, the team then iterated and landed on a minimal viable product (MVP).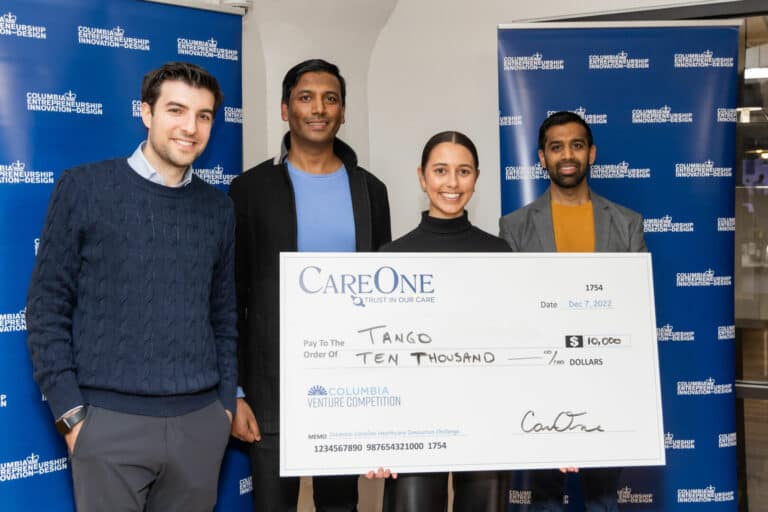 "Our partnership with CareOne has led to many valuable experiences and beneficial funding for the entrepreneurs involved in the challenge. This year's Healthcare Finals were the most competitive pitch sessions that I can recall over the last ten years" said, Chris McGarry, Senior Director for Entrepreneurship in the University Office of Alumni and Development at Columbia and moderator for the Healthcare Finals. "The whole cohort was exceptional."
The CareOne Challenge exists to mobilize creators and innovators in healthcare delivery, patient empowerment, medical devices, EMR management, healthcare for an aging America, medical services, and more.
For more information on the program, visit this site.